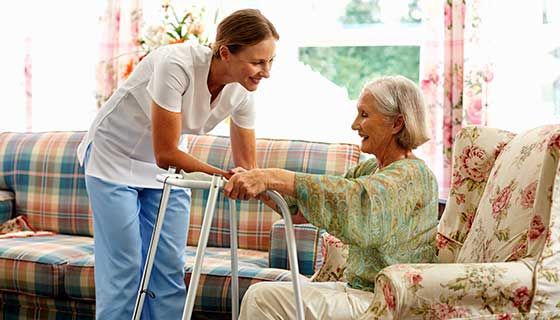 Gait training is a type of physical therapy that helps a person improve the ability to walk safely and effectively. Gait training is recommended for people who have had an illness, injury or other health condition that affects their ability to get around. Conditions like spinal cord injuries, joint injuries or replacements, strokes or neurological disorders, muscular dystrophy, etc. can lead to difficulties with walking, that's why doctors recommend gait training. 
Gait training can help:
bolster your muscles and joints

enhance your balance and posture

improve your endurance

build up your muscle memory

retrain your legs for repetitive motion

lower your risk of falls, while increasing your mobility

lower your risk of other illnesses, such as heart disease 

Aurora Home Health physical therapists have extensive expertise in home exercise programs including gait training. We work closely with the healthcare professionals in order to improve patients' walking skills. We start with an evaluation because each patient is different. Aurora staff identify what obstacles need to be overcome to regain a normal gait, and create a plan of care that will help the body to walk normally. Muscle strength also has to be improved during gait training to make sure that the patient has enough strength to propel themselves safely. The process of gait training is similar to other physical therapies. It usually involves walking on a treadmill and completing muscle strengthening exercises such as stepping over objects, lifting your legs, sitting down, standing up, and other activities. Coordination and balance training can also be integrated to ensure that the person's walking is as safe as possible. Aurora Home Health offers professional gait training in Plano, near Dallas, and throughout the DFW area.