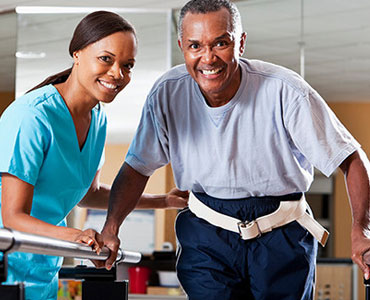 If you or any of your family members need to re-learn skills that were compromised because of health conditions, at Occupational Therapy is exactly what you need to pass physical limitations and enhance your skills.
Thanks to the Occupational Therapy, our patients can regain their fine motor skills to improve their habitual daily activities, including writing, cooking, grooming, getting dressed, etc. To Occupational Therapy, you or your beloved people will able to remain at home or in community of other individuals being able these manage daily activities with someone else's help.
Here, at Aurora Home Health, we cooperate with our patients' physicians to develop and carry on individual treatment plan will help them better recover or adapt to new physical or mental states.
The key Occupational Therapy services that are provided by our team include:
Orthopedic Rehabilitation

Neurological Rehabilitation

Home Safety Evaluation

Post Surgical Care & Rehabilitation

ADL's and IADL's Retraining

Vocational and Provocative Training

Adaptive equipment training
By delivering Occupational Therapy services to our clients, we want to help them both learn new skills for independent day-to-day life, as well as cope with their new physical or mental conditions during recovery. Our specialists are committed to helping every client adapt to their community or living environments while still managing their health conditions.