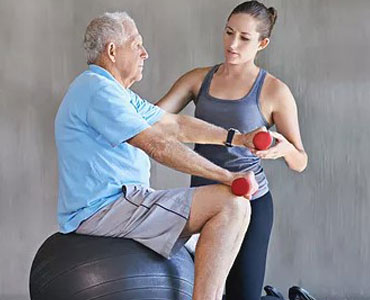 If you or your family members suffer from pain caused by an injury, disability or chronic illness, then our team of Physical Therapists can provide you with the needed service.
With the help of our Physical Therapists, our patients regain as much motor power as possible after their recent illness, injury or surgery. Our licensed team of professionals specializes in delivering the highest-quality physical assistance that's at the top of medical standards.
As part of our major treatment methods, we use physical activities, exercises, stretching, and other healing methods that may help our patients relieve the pain and provide for better and faster tissue generation.
Here, at Aurora Home Health, we develop individual physical therapy plan for every patient, taking into account your unique needs. In order to achieve the most effective results possible, we consult with your physician before starting to offer you such services as:
Home Safety Evaluation




Balance exercise




Transfer Training




Maintenance Therapy
Many of our patients with injuries and disabilities have benefited from our Physical Therapy services greatly. Whenever you or your beloved experience any kind of difficulties during recovery periods, don't hesitate to ask for our professional help.