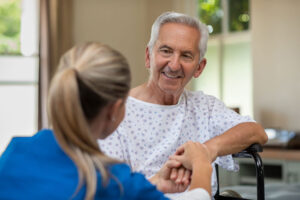 In the first days and weeks following spinal disc replacement surgery, patients may experience some pain and discomfort. As a rule, the recovering patients experience some pain and soreness at the incision site at the front of the neck. They may also have some trouble with speaking and swallowing. As the recovery continues and patients get the proper treatment, pain and other symptoms can be successfully managed and go away with time. If you or your relatives need professional spinal disc replacement post-operative care services in Plano or DFW area, the Aurora Home Health staff is ready to help.
After artificial disc replacement surgery, patients are commonly cleared to go home once they can handle the stairs, eat solid food, and have a bowel movement. Some patients can go home the same day, while others need several days or weeks to spend a night in the hospital. 
As for the first days at home, patients are advised to relax and limit their activities. Although, short and frequent walks are encouraged to help patients with digestion. 
We know how important it is to provide proper and on-time nursing home care services for patients post spinal disc replacement surgery. With our service, you may be confident that your relatives and parents get all they need even when you cannot stay next to them on your own.