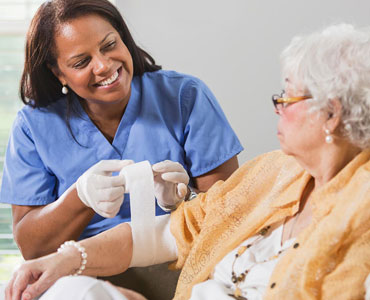 Wound care services are one of the fastest-growing demands of elderly people. Chronic wounds and wounds caused by diseases like diabetes are commonly encountered in medical practice, especially among elderly patients. Healthcare providers working with such patients should be adept at diagnosing wound types and optimizing medical treatment as per the patient's requirements. 
With that said, there are a number of services that can be provided to assist individuals with wounds. These include:
Diabetic Wound Care 
About 15% of patients with diabetes have a diabetic foot ulcer, an open sore or wound that is commonly located on the bottom of the foot. Many times, the first symptom that a patient may notice is some drainage on socks. Redness, swelling, and odor may also be present. Diabetic wound care  and burn wound care services commonly suggest that a patient should wear special footgear, or a brace, specialized castings, or use a wheelchair or crutches.  
Chronic Wounds and Non-healing Ulcers Care
A wound that appeared on a patient's body more than 8 weeks ago and didn't have any signs of healing is considered to be a chronic wound. Such wounds should be regularly cleaned and covered using wound dressings and bandages. The treatment of non-healing ulcers commonly includes wound cleansing, necrotic tissue debridement, prevention, diagnosis, and, if necessary, treatment of infection. Learn more about chronic wound care. 
Amputation Wound Care
During surgery, the wound will have been closed with stitches or staples. To check how the wound is healing, the healthcare team should often change the dressing. It will need to be kept dry while in the shower or bath. 
The professionally trained and experienced team of nurses working at Aurora Home Health is trained at wound management, amputation wound care, wound healing processes, and selection of the best medicine and devices to heal wounds caused by amputation, dietetic disease, chronic illnesses, and non-healing wounds. If you are looking for the best home wound healing services in Plano, near Dallas and DFW, Aurora staff is always ready to help. 
Our nurse wound specialists provide individualized and expert care under a patient's physician order to ensure our patients reach optimal healing and positive outcomes.