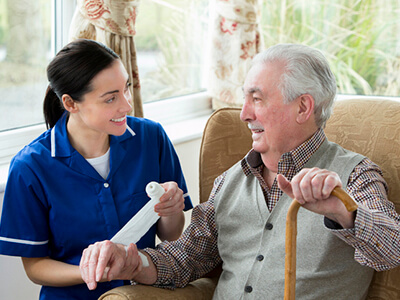 If your body's wound-healing processes function properly, you may not even notice some minor cuts, scratches, and blisters as they will heal quickly and properly. However, the situation is different for people with diabetes. People living with this illness know that even insignificant scores can intensify into dangerous wounds that heal for long. 
Some of the most common diabetic wounds are those caused by lower extremity trauma or pressure ulcers. When left untreated, the diabetic wounds can result in the extension of infection and tissue damage, which can result in sepsis, the need for amputation, and death.
The Aurora Home Health staff provides professional help to patients with diabetes and looking for expert assistance in taking care of the wounds that take long to heal. Our team provides individual diabetic wound treatment options to every patient. We work only with time-tested medicine and devices to guarantee the best results. 
To accelerate the patient's body healing processes, the Aurora Home Health staff delivers the following wound treatment options:
Applying compression bandages to treat diabetic wounds. Such shoes or boots apply gentle pressure but still allow movement. When placed inside the boots, they keep the wounds moist to promote healing and provide protection against infection.

Hyperbaric oxygen therapy is a safe diabetic wound-healing therapy that stimulates your body's innate healing process and addresses the different ways that diabetes automatically suppresses your immune system.


If you or your family members need professional diabetic wound healing services in Plano, near Dallas and the DFW area, the Aurora Home Health staff is always ready to help. Call us at 866-934-7060 for consultation.