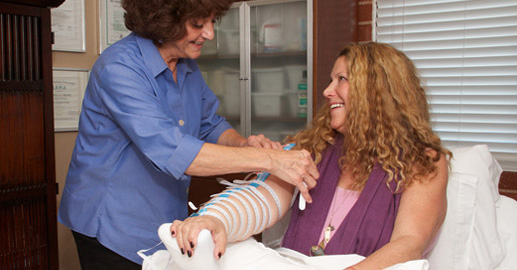 Lymphedema is an illness that refers to swelling that generally occurs in one of a person's arms or legs; sometimes – in both arms or legs. As a rule, the wrong condition is caused by the removal of or damage to lymph nodes as a part of cancer treatment. If you or any of your beloved ones need special treatment that's caused by Lymphedema, then you've come to the right place.
At Aurora Home Health, we provide Lymphedema Rehabilitation & Therapy, we have a team of highly skilled nurses dedicated to providing help and services that meet the needs of every patient. We cover the service area near Dallas, DFW area. Our skilled and professional staff is always ready to come for help whenever you or your close ones need special treatment.
Lymphedema Rehabilitation & Therapy services provided at Aurora Home Health include but are not limited to:
Comprehensive assessment and limb measurement;

Treatment plan that can include a high frequency of visits over a short period of time;

Specialized bandaging of the affected limb to assist with drainage;

Exercises to assist with drainage;

Manual therapy to assist with drainage;

Patient education.
All Lymphedema Rehabilitation & Therapy services are provided by our team licensed and registered nurses who can improve a patient's condition and deliver all the needed preventive measures to hinder it from getting worse.
A nurse from our medical center will provide you with the necessary assistance at home. This kind of services can be also the best choice for those patients who have undergone:
Surgery;

Radiation for cancer;

Removal of lymph nodes, generally for cancer;

Infection;

Trauma.